CIMcloud is excited to be working with the Sage Renewal Sales Team on the promotion of the Sage 100 Customer Portal by CIMCloud, exclusively available on the Sage Price List. Below are the details and resources related to the promotion.
The Promotion – Round 2 (Through September 30, 2023)
You can start earning spiffs now.
The Leaderboard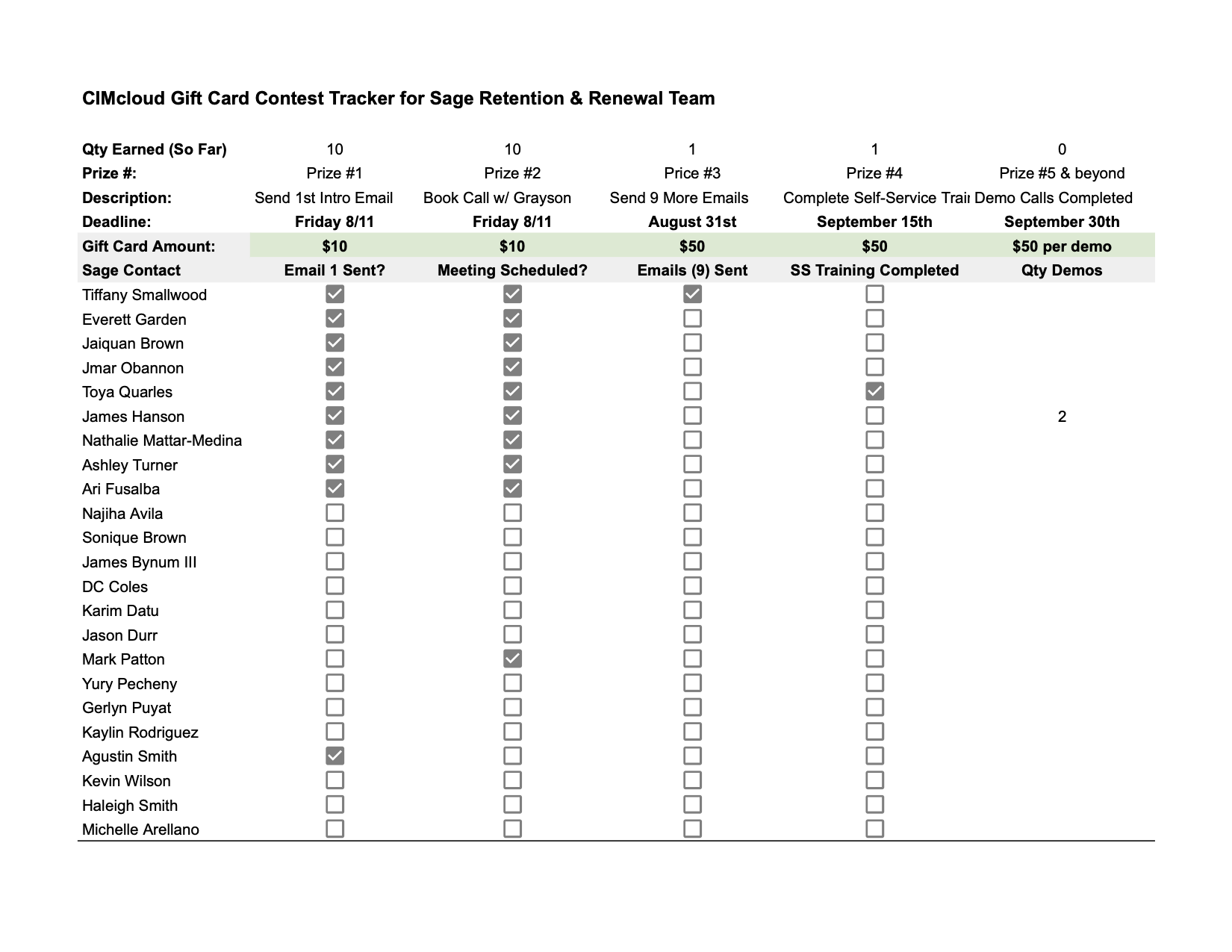 The Target:  Take First Steps
$10 Gift Card for Your First Into E-mail (& Copy Grayson)
$10 Gift Card For Booking Your First Call With Grayson
$50 Gift Card For Sending 9 More Email Intros On the Call
The Target:  By September 30
$50 Gift Card for Completing Self-Service Training
You can find the CIMcloud Self-Service Training here.
$50 Gift Card for EACH Demo
45-60 Minute Customer Demo Call
Hosted And Led By CIMcloud Team
"Registered" Via an Email Intro to CIMcloud
Sage Employee Is Optional
Customer Must Be Using Sage 100, Located In North America, and Have An Influencer Or Decision Maker Of A Potential Purchase On The Call
Spiff Paid To Each Sage Employee
No Limit On Qualified Demos
Demos Must Be Completed by June 30, 2023
Payout Date: July 15, 2023
Increasing The Odds
Target These Sage 100 Customers
Revenue Tiers:
Verticals:
Manufacturing
Wholesale Trade
Retail
Here are additional Key Fit Indicators for the Sage Customer Portal
Introduce It On A Call or Voicemail
LIVE CALL OPENING – Have you heard about the new Customer Self-Service Portal that we just rolled out for Sage 100?
VOICEMAIL OPENING Hey <NAME>, I wanted to make sure you were aware of the new Customer Self-Service Portal that we just rolled out for Sage 100.
The Highlights…
We've had customers asking about this for years and just partnered with CIMcloud to provide an exclusive Sage offering.
It allows your customers to self-service for almost everything they do with you, it works with your data in Sage 100, and it costs a lot less than one part-time employee.
I'll email you more details including a link to online demos and a contact at CIMcloud that can provide additional details if you're interested.
Your CIMcloud Team
Reach out to any member of the CIMcloud team with questions, to schedule a One-On-One Alignment Meeting or to submit leads or referrals.
Jack P. Evans
Sales Manager
jack.p.evans@cimcloud.com
Grayson Truslow
Business Development Representative
grayson.truslow@cimcloud.com
Kerry Meade
Marketing
kerry.meade@cimcloud.com
Brian Seidel
CEO
brian.seidel@cimcloud.com
Resources
Sage Marketplace Listing for Sage 100 Customer Portal by CIMcloud – The official Sage Marketplace Listing
Sage 100 Customer Portal Webinar & Product Overview – A previously recorded webinar with details and a demo of the Sage 100 Customer Portal
CIMcloud – General website for CIMcloud
CIMcloud Platform Overview – A broad overview of the CIMcloud Platform (not limited to the Sage 100 Customer Portal offering)