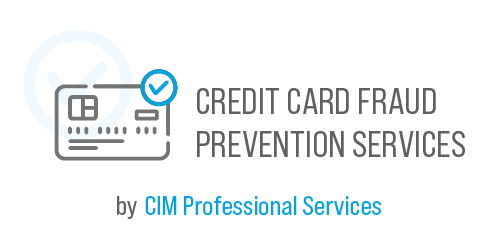 With fraudulent credit card transactions on the rise, companies are rightfully concerned about ways to reduce the negative impacts of this growing and costly trend in the eCommerce space.  Although credit card merchants do offer options for protection, they are often not enough and companies affected by fraudulent transactions can be subject to having their accounts temporarily deactivated by their merchant until additional layers of fraud prevention are implemented on the front-end of the eCommerce website or SaaS application.

What are the options for additional protection?
CIMcloud customers have the option to use 3rd party providers to identify and block these malicious attempts.  Although each provider may have their own unique implementation, they typically involve the use of an API which requires an expensive implementation.  The approach, cost and compatibility with CIMcloud's platform vary by vendor.
As an alternative, CIMcloud customers have the option to leverage the CIM Professional Services team to implement additional protection unique to their website that is built upon existing CIMcloud technology and does not require 3rd party integrations.
How does this work?
This update will allow us to set maximum thresholds on the number of failed credit card attempts that take place within a certain window of time before taking corrective action.  The type of corrective action depends upon your current version of the CIMcloud platform.
On the classic platform
Once the threshold is met, the CIMcloud platform will automatically dump the shopping cart to prevent continual hits to your merchant account.
On the new, core-versioned platform
Once the threshold is met, the CIMcloud platform will automatically block the offending IP address associated with these attempts.
What does this cost?
Unique to each site, this update is implemented by CIMcloud Professional Services Group.  As part of the implementation process, the CIMcloud Professional Services Group will install, enable, test and publish on your current site.
The cost includes a one-time, fixed setup fee plus a monthly fee in addition to a small monthly fee to keep this active and running on the CIMcloud infrastructure.  Pricing depends upon your current version of the CIMcloud platform.
CIMcloud classic platform customers: $2,200 setup  |  $50 per month
CIMcloud new core-versioned platform customers:  $1,800 setup  |  $50 per month 
Standard one-time software fees are waived for all customers who implement this through the CIMcloud Professional Services Group.
Can I add captacha to the payment page?
Standard captcha can also be added to the payment page for guest checkout to provide another layer of protection.  Although this does further deter fraudulent transactions, it does add an additional step to the check-out process that many customers consider to be less than optimal.  Customers must weigh the benefits of additional protection against the cost to the user experience when considering captcha.
Adding Captcha to Payment Page: $1,400 setup  |  $0 per month
How long does it take to implement?
Currently, the typical implementation takes two weeks from the scheduled start date until live deployment and three weeks if Captcha is included.
How do I get this implemented on my site?
If you are interested in implementing this additional layer of fraud prevention please submit a request today.
Our team is working to accommodate the large number of requests for this update, and we have added additional resources to help accommodate through December 2022.
While we are working to accommodate the high demand, we can not guarantee a spot for all requests by December 2022. 
Although this technology is designed to reduce the frequency of fraudulent attempts, it is not guaranteed to prevent all fraudulent credit card transactions.