Overview
This article reviews options for order comments during the checkout process and how these are populated in the integrated ERP system.
Comment Types
There are two comment types available by default, Shipment Comment, and Fulfilment Comment. Base sites only have one shipment per order, but there are add-ons that allow for multiple shipments (based on shipping methods, warehouses, or ship tos). The default set-up is to display the shipment comments section and hide the fulfillment comment. In Sage100 if either or both comments are enable they will go into Sage as comment lines (/C) on the order due to the Sage limitation of 30 characters on the order header comment. Other ERPs can typically be done this way or use existing comment fields. This is highly dependent on the ERP.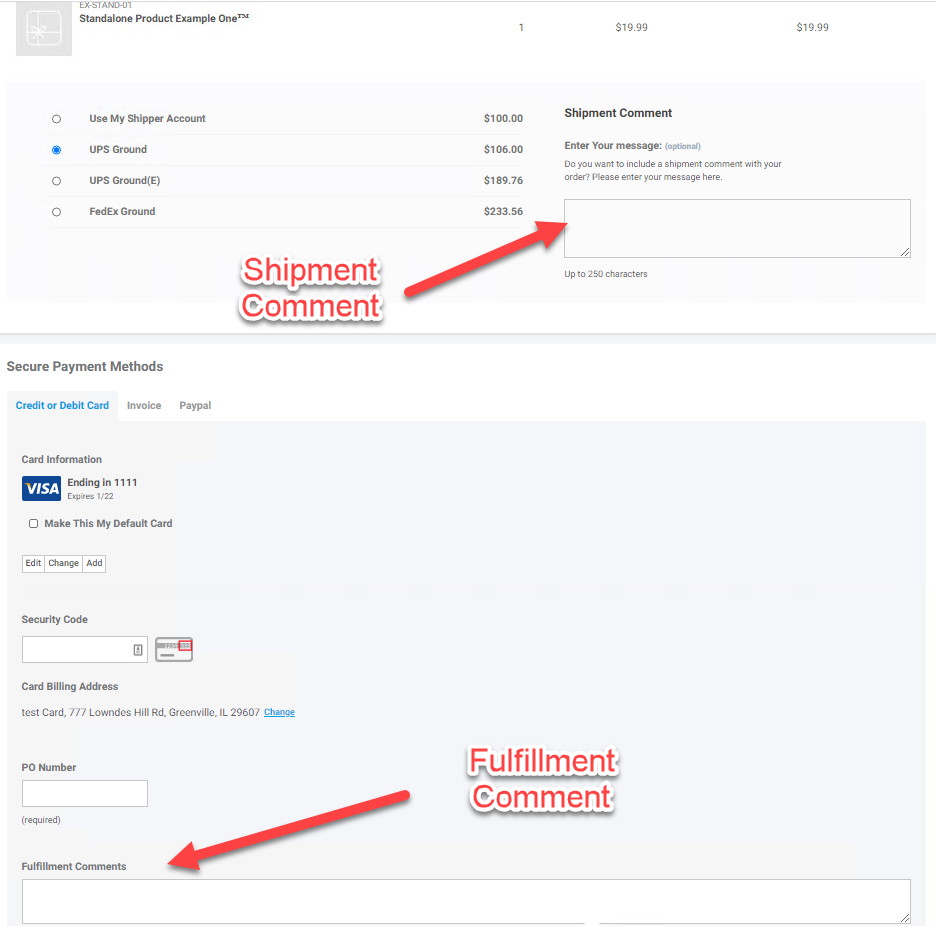 Feature Settings
Modifying which field displays can be done in the Application or Customer Site settings. In the Quotes/Ordering Section you can enable the feature Order Comment Settings. Under this are feature settings that allow you to turn on/off these particular fields and to edit the title/label for these comments.
Collect a comment on each shipment – This displays the Box marked 1 below and the heading in 2 -4. If a site has multiple shipments a box will display for each shipment.
Shipment Comment Question Text – This controls the display of the label marked 2 below. This also shows as the label on the order confirmation email (only when set at the application level). This also displays on the order confirmation page. If no comment is entered then after the label it will display the label text preceded by the word "No". So the default if no message is entered is it will display "Shipment Comment: No Shipment Comment"
Shipment Comment Label Text – This controls the display marked 3 below.
Shipment Comment Help Tip Text – This controls the display marked 4 below.
Show Order level comment box – This turns on/off the order level comment field and label marked 5 and 6 below.
Order Level Comment Label Text – This controls the label text marked 6 below.