Introduction
A B2B Customer Self-Service Portal (or "B2B Portal" for short) allows your existing customers to login, shop for products, see their pricing, create quotes, place and track orders, track and pay invoices, and access their account information.
Overview
A B2B Customer Self-Service Portal (or "B2B Portal" for short) describes a CIMcloud customer site that:
Allows your customers to self-service 24/7 via the capabilities listed below
Is typically linked to from your existing public-facing / corporate website
Is designed for existing / returning customers
Is behind a login (most of all of the features are hidden until you log in)
Is typically used by companies that are B2B (or "Business To Business", meaning they sell to other businesses and not directly to household consumers)
Has an overall site design / navigation template that

Gives as much emphasis to tracking (orders, shipments, invoices, payments) and invoice payments as it does to the product catalog and orders.
Is designed to allow customers to quickly log in, find / get / do what they need, and get back out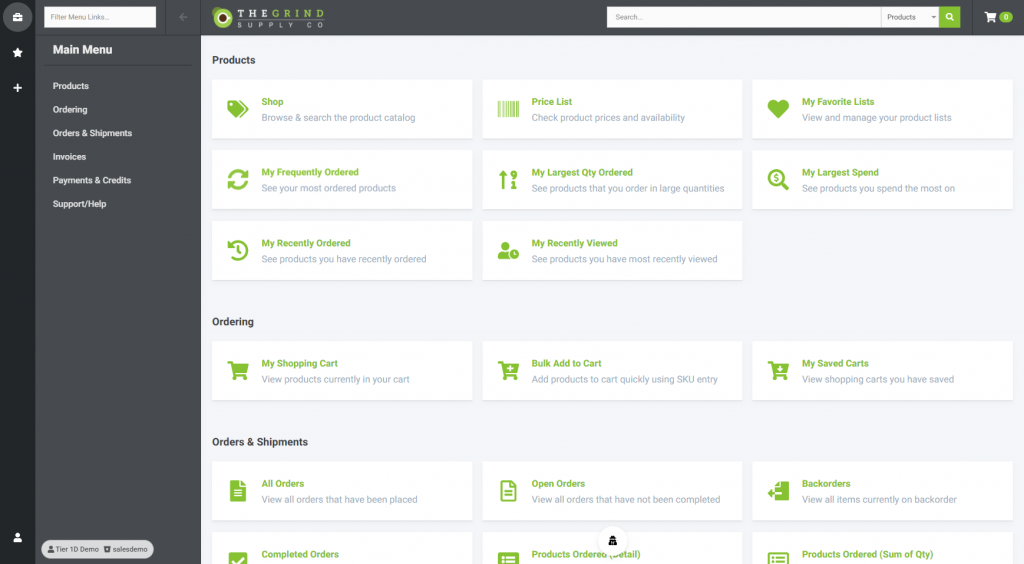 Capabilities
Your customers can log into the B2B Portal and:
Search or browse your product catalog
Place quotes and orders
Track orders and shipments
Track invoices, payments, and credits *
Make invoice payments *
Place ad-hoc requests with your staff
Use 100's of other features from the base platform, and
[Optional] Use features from 20+ optional software bundles
Overview Video
This video shows an overview of the features included in the CIMcloud customer (B2B) self-service portal.  These features are included with all CIMcloud pricing tiers.  It assumes you chose the "Select Connect" package to sync data with your ERP / accounting system.
Additional Videos
The following additional videos & demos can help provide more context on what is available with CIMcloud's B2B Customer Self-Service Portal.
Starter Features Overview Video
This video shows the sub-set of base ("Select Connect") package customer self-service portal features that are included in the "Starter Connect" package.  These can be deployed with minimal implementation work from your team.  Many CIMcloud clients choose to phase the implementation of CIMcloud and go live with this "Starter" set of features first.  In a second phase, they then deploy the product catalog and online ordering features.  Breaking your implementation into phases can be a smart strategy if you are resource constrained or just want to get something live and rolled out to your customers as quickly as possible.
Demo-Style Walkthrough Videos
Demo-Style Video #1: Portal Overview
The following video is a demo-style walkthrough of the B2B customer portal.
Demo-Style Video #2: Linking To The Portal From Your Existing Website
Many of our customers have an existing public / corporate site that they want to keep.  That's and common use-case and it not a problem.  This video gives and example of how you can link to a CIMcloud B2B Portal from your existing website.  We can even match the branding of the B2B Portal to your existing corporate site (may require a billable engagement for custom design services from a pro services partner, depending on requirements).
Demo-Style Video(s) #3: Demos of ERP Data Syncing with CIMcloud
The following article includes four (4) demo videos showing & explaining the standard types of data that sync between the CIMcloud Customer Self-Service Portal and a Sage 100 ERP / Accounting system.
Demo-Style Video #4: 1-Minute Overview of B2B Portal
Demo-Style Video #5: Portal and Public Web Store Overview
The following video provides a more detailed demo-style walkthrough of the B2B customer portal and a public web store.

Topics Covered In the Demo-Style Video #5
The above video provides a quick walk-through of the Customer Sites, including 1) the B2B Self-Service Portal, and 2) Public Webstores.  Include touches on the following topics.
My Account Info
Products

Shop (mentioned)
Price Report
Favorites (mentioned)
Other Lists (mentioned)

Orders
Orders & Shipments

Manage Orders
Products Ordered (sum)
Products Ordered (details)

Invoices

Statement
Open Invoices
Make Payment (walk-through)

Payments & Credits
Support / Help
Product > Shop

Categories
Example: Bottled Tea Category > Organic Tea

Product Detail (product history)
Product Family (2 nested droplists)

Retail Catalog

Walk through retail template / home page