Overview:
CRM Standard is an optional add-on bundle to the CRM Workspace (a "lite" CRM tool) that adds additional capacity and functions to the application.
Details:
Additional Functionality
Creation of a central interaction database / "conversation log"
Adds the following capabilities to interact with quote requests:

Creates a central  database that logs all actions associated with the quote
Central interaction database entries for each quote include

Internal and external notes added by Workers
Notes added by Contacts
Workflow confirmation emails between Workers & Contacts triggered by notes

Ability to display existing quotes filtered by stages and who has next action

Workers (with appropriate rights assigned) have the following added capabilities:

Edit prices for products and shipping on saved orders and quotes
Ability to edit quantity on payment page
Ability to edit product prices on payment page
Ability to edit shipping prices on payment page
Ability to add non-catalog products
Ability to lock a quote or selected lines on a quote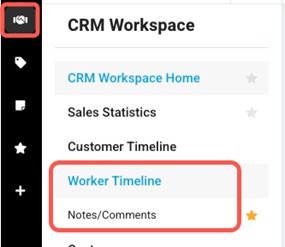 Worker Notes and Activity Tracking
Notes and Activity Tracking can be accessed by the worker by navigating to:
CRM Workspace ⟶ Worker Timeline ⟶ Notes / Comments
Installation of CRM Standard changes the Worker's landing page display.  The complete Activity Log for interaction tracking is accessed using the Notes/Comments link on the Worker Timeline menu in the CRM Workspace.
All interactions (based on Worker rights) are displayed, sorted in descending order from the most recent.

That portal can also be accessed from the link displayed on the main panel of the landing page.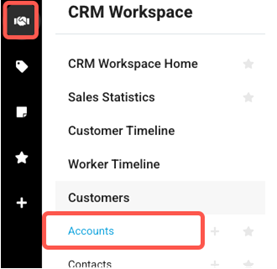 Presentation of data on the Accounts task of the Customers menu in the CRM Workspace is also changed by deployment of CRM Standard.
The detail page for the selected account now displays two columns.  The left column contains activity notes sorted in descending order.  The right column contains key account information including Worker notes, recent sales orders, recent invoices, and recent shipment confirmations.
A menu ribbon across the top of the detail page enables the Worker to quickly change the display of key account data.