Overview
Search Engine Settings are settings that can be configured in the CIMcloud Worker Portal for your content (including web pages / content pages, products, and product categories) to hep you improve your chances of getting listed and highly ranked in search engines.  This is an important part of your overall Search Engine Optimization (called "SEO" for short) efforts.
Intended Audience for This Article
This article applies to CIMcloud clients that have public (or anonymous) facing content that they want to get indexed/listed in search engines.
Content to Apply Search Engine Settings To
The most typical types of content that search engine settings are configured for include:
What Are Static Pages?
Static Pages are the tool that we use in CIMcloud to turn each content record (in your CIMcloud database) into a unique page on your site that can be more easily seen and ranked by search engines.  Static Pages include special configuration settings like page name, page title, and meta tags.  Each content record in CIMcloud can optionally have one (1) static page that holds these settings (if you choose to populate the settings).  Through Static Pages, you can give each product detail page, product category page, and content page, created in the Worker Portal, a unique name that is human-readable and SEO friendly.
Step-by-Step Process
The following are the different configurations that can be modified to set the SEO settings desired for each product, product category, or content page. To view this section, simply click 'Yes' under the Create Static Page setting:
Page Name

The name of the page you are creating. It must end with the extension .asp
The Creating Search Friendly URLs article covers more details and tips when deciding on the page names for your content.

Page Title

This corresponds to the 'Title' meta information in the page.

Description

This corresponds to the 'Description' meta information in the page to be used by search engines.

Keywords

This corresponds to the 'Keywords' meta information in the page that search engines use to find the page based on search terms entered by users.

Canonical URL

This refers to the URL that is displayed in search engines.

Typically, you will use the same value as the static page, but decide whether or not to use the https:// and/or the www.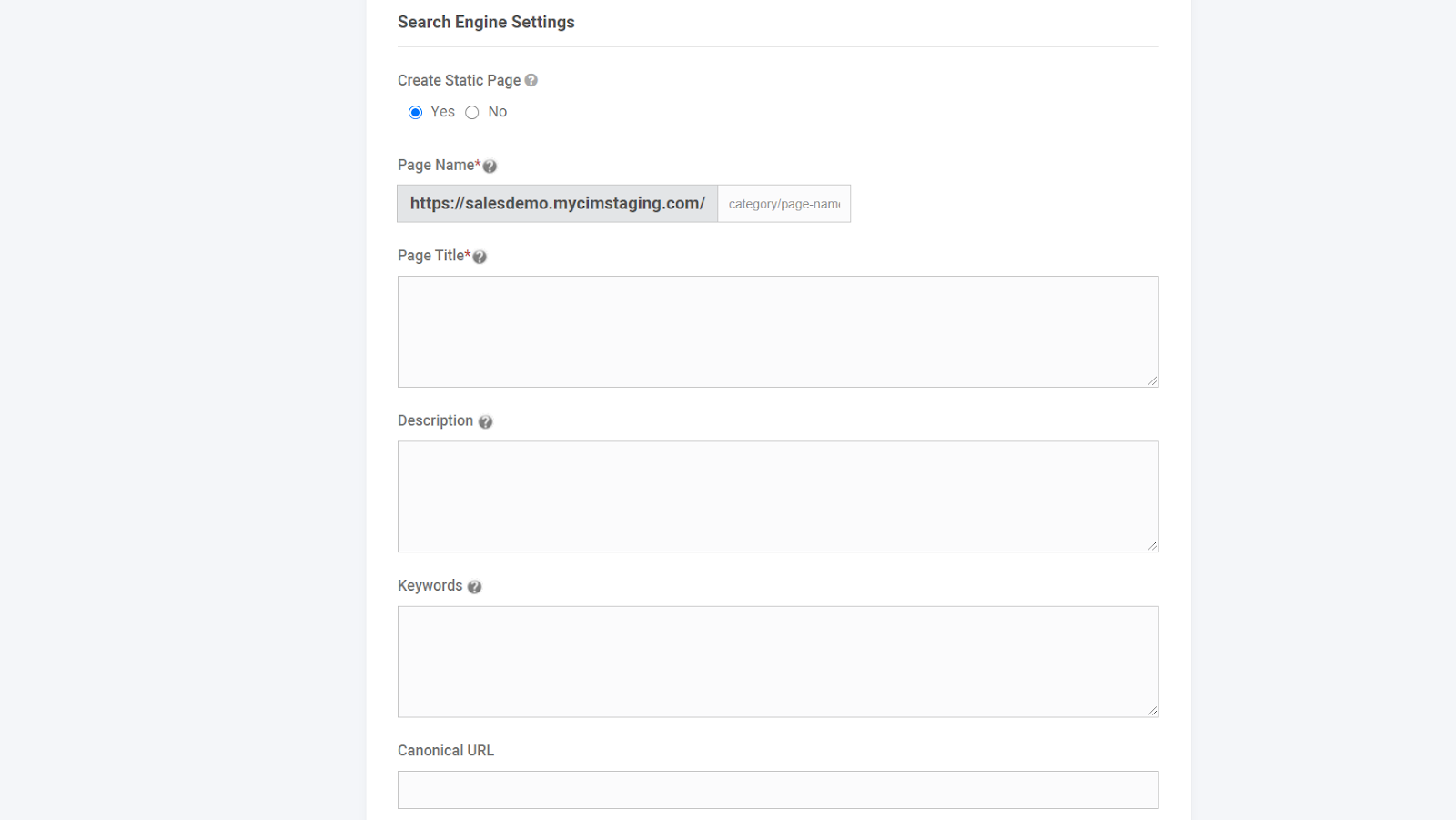 Results:
SEO configurations are set for products, product categories, and content pages.   This optimizes the website listings in search results applications.