Overview
The Product Inventory Tools Bundle allows you to display inventory levels from your ERP system, based on established sets of rules, within your CIMcloud application. In addition to seeing inventory availability users will also be able to monitor out of stock products and set up alerts once products become available. 
This will provide your customers and employees with visibility into inventory on specific products in effort to: 
Alleviate inbound requests regarding product availability

Help users forecast purchase timing and product availability

Provide reps with insights on what products customers are monitoring

Reduce uncertainty related to order quantities and/or backorders
Summary of Features
Inventory Levels Sync from ERP system

Pulls inventory levels from your ERP to show users either i) stock status, and/or ii) the exact quantity that's available for purchase

Inventory Display Profiles

Creates a set of rules that dictate what the customer will see related to product inventory

Product Inventory (Out of Stock) Watch with Email Notifications

Allows users to add items to their "watch list" with email alerts when the item is back in stock

Out of Stock / Backorder Alert Based on Order Quantity

Provides a warning to users at checkout if they're ordering a larger quantity than what's available for purchase 
What a Customer Sees
When this bundle is implemented, there will be a variety of ways (and locations) in which customers can gain insights on inventory related to specific products. 
Customers will be able to view the actual quantity available on product detail pages: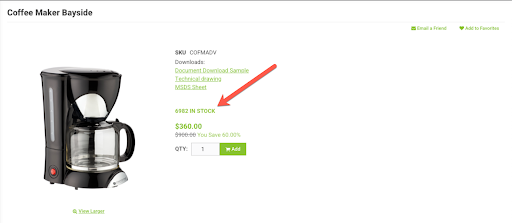 As customers go through the checkout process, they will receive alerts if they are ordering a product that is not currently in stock or does not have enough inventory to fill the entire order: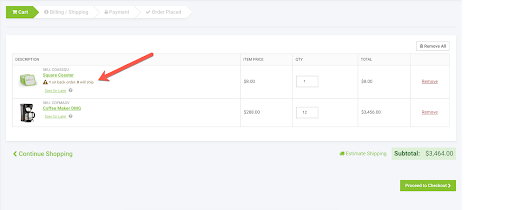 For items that are out of stock, customers can add them to a "watchlist" that will send an alert via email once the product becomes available again: 


What a CRM Worker Sees
Workers will be able to see quantity available across all products:

Workers can view all customers who have subscribed to an inventory watchlist (and associated products):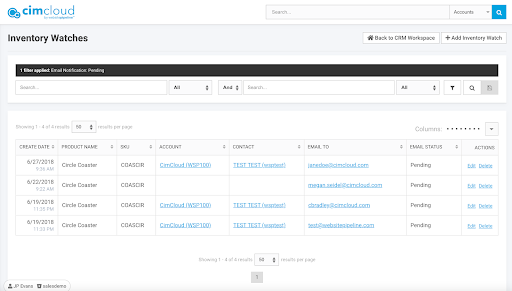 And workers can even create a watchlist on behalf of a customer:

Admin (Worker) Setup and Configuration Options
When configuring the Product Inventory Tools bundle, site administrators will leverage the Product, Content, Application Settings workspaces to create and manage the following inventory-related settings:
Inventory Display Profiles (to apply to products) 
A profile is a set of rules that dictate what the customer can see & do, and are managed within the Product Workspace.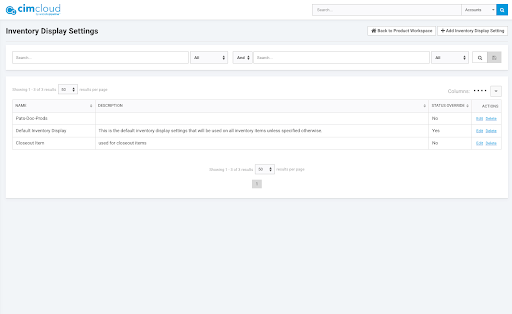 Inventory-Related Settings by Product
Choose whether or not it is an inventory item

Choose the Inventory Display Profile that applies the rules

Override the inventory-related messages by status (that are inherited by the Inventory Display Profile) for In Stock, Out of Stock, On Purchase Order

Set a buffer qty (false 0) for a product to be considered out of stock
Note: Quantities shown below are summed from applicable warehouses in your ERP system.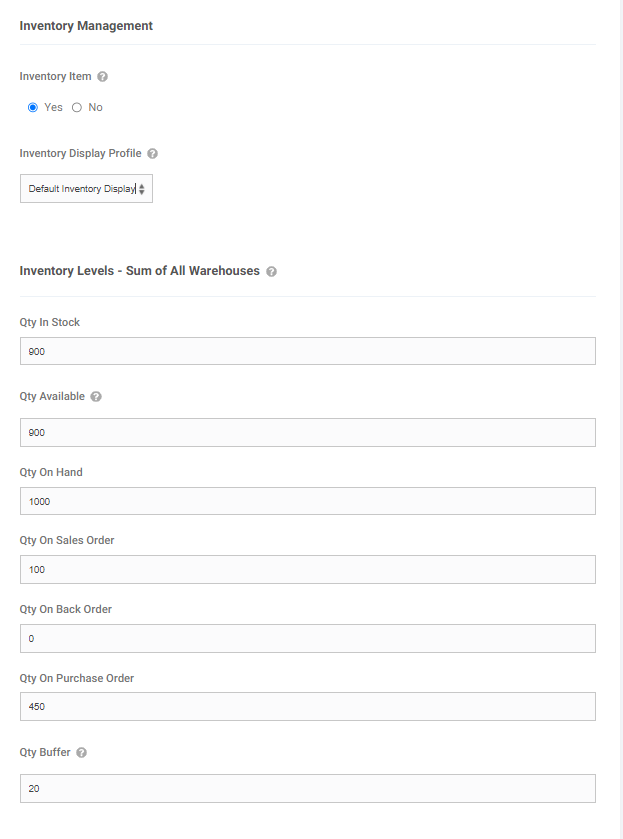 Manage Inventory Watch Email Settings
Site admins will be able to establish and make adjustments to the email settings on outbound communication for users who have been assigned (or assigned themselves) to a watch list.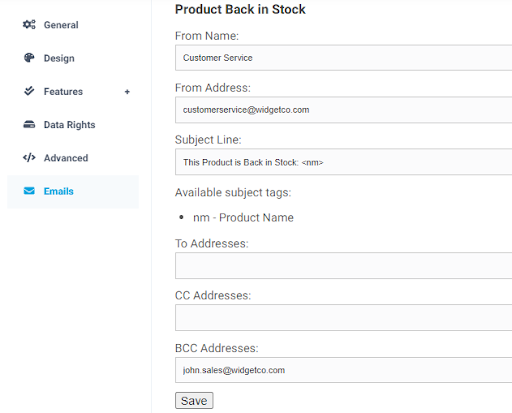 View and Monitor Inventory-Related Data
Can see inventory levels (quantities) by warehouse

Can see summed inventory levels (all warehouse) on products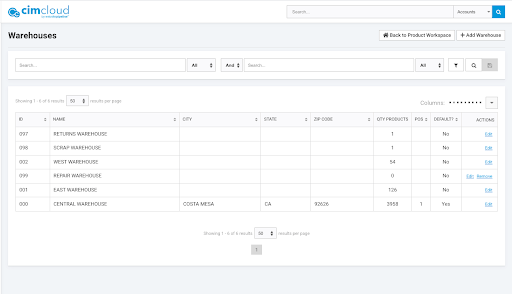 How It Works (Diagram)