Overview
This article addresses an issue where Microsoft Defender SmartScreen shows that your website has been reported as unsafe.  While uncommon, some customers have reported seeing this message while using Microsoft Edge web browser to access their Worker Portal.
What is Microsoft Defender SmartScreen
Microsoft Defender SmartScreen is software by Microsoft that is used to help protect against phishing and malware.  It is built into several Microsoft products including the Microsoft Edge web browser.
Below is an example of the message displayed when Microsoft Defender SmartScreen believes a site may be unsafe: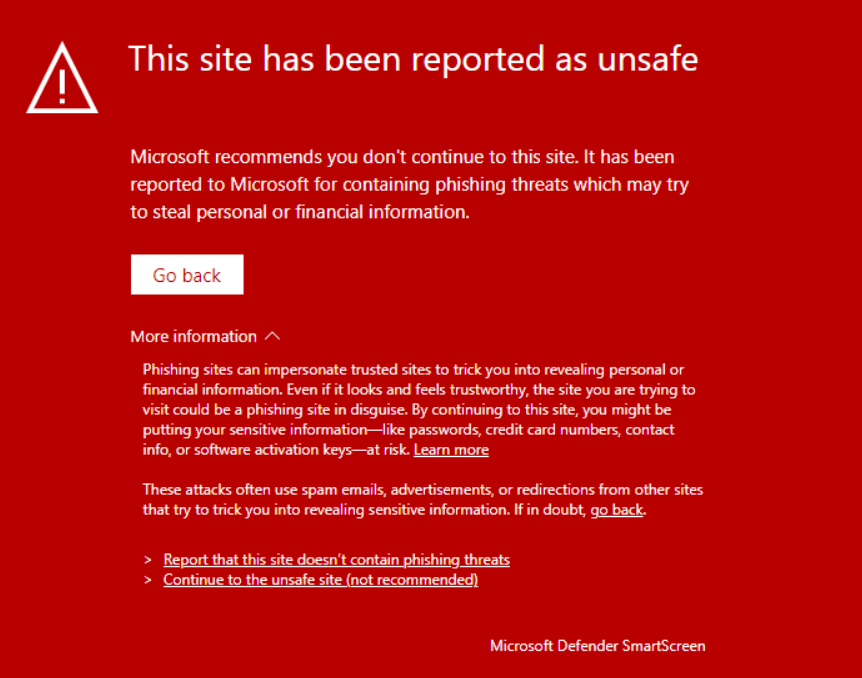 What to do if you get this message
Here are the recommended steps to take if you receive this message:
Double check the URL of the website to confirm you are accessing the correct website.

Worker Portal: [sitename].mycimcloud.com
Site Front: [sitename].cimproduction.com or [your live domain name]

Report that this site is safe

Once you have confirmed you are accessing the correct website, you can report to Microsoft that the site is trusted/safe

Utilize a different browser

For a list of supported web browsers, see Supported Browsers.
For more information on Microsoft Defender SmartScreen, see the following article from Microsoft:
https://learn.microsoft.com/en-us/windows/security/threat-protection/microsoft-defender-smartscreen/microsoft-defender-smartscreen-overview